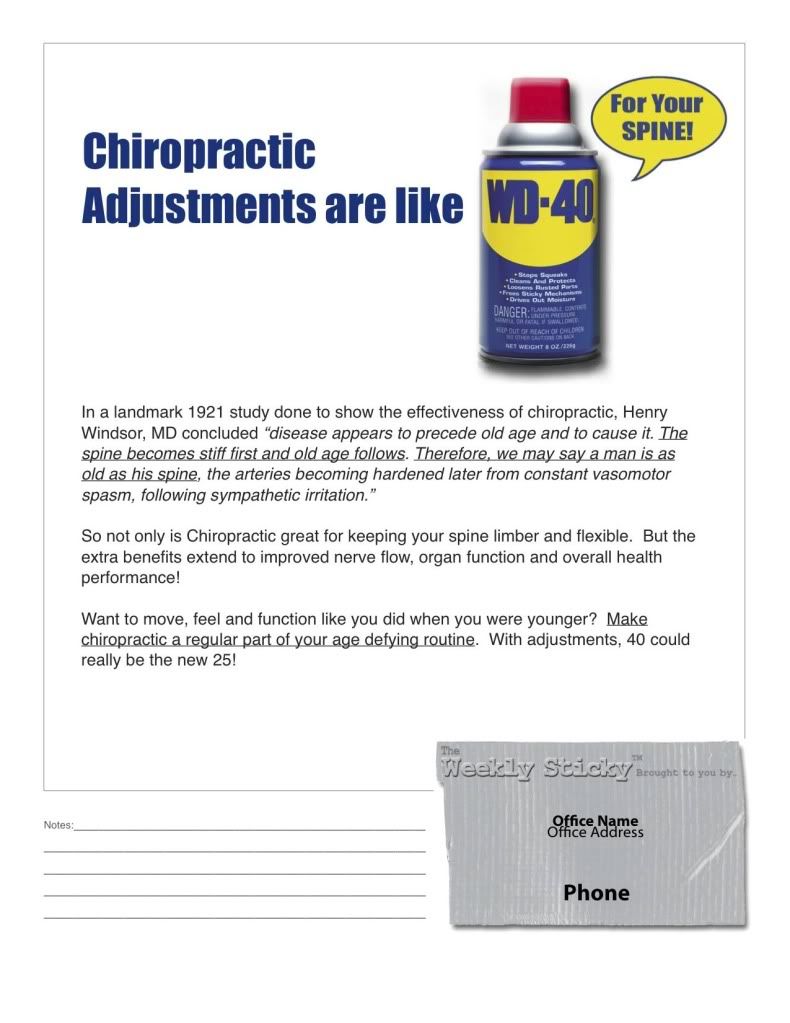 It's a NEW Principled way to educate patients and sharpen staff communication skills.
Based on the NY Times best selling book Made to Stick by Chip and Dan Heath, each handout encorporates six essential elements to make your Chiropractic message stick.
Personalize them with your own office information.
Easy to share on Twitter and Facebook…
Join the thousands of Chiropractors and CA's worldwide who share the Weekly Sticky with staff and patients on Social Media…
Or sign up for Basic or Premium Membership and get added benefits like:
Customizable Sticky handouts for your patients

Email Stickies to your client base

Blog a new Sticky every week on your website

Get on our Sticky DC referral map
Sharing Stickies with your patients, staff and community is as easy as…
What others are saying…
"Love The Weekly Sticky. Have been using them in the office every week. Great patient education tool! Thanks Rob." – Patty Barge, DC
"This is great Doc. Man O Manishevitz your Sticky's are the greatest patient ed. tool I've ever seen. Keep up the good work." – Elliott Segal, DC
"I have been using the Weekly Sticky since Dr Rob first started them. The weekly message it always spot on! It's the perfect message of the science, art and philosophy of chiropractic in a language the average Joe understands. Handing out the Weekly Sticky to a patient is like sending them home with your best CA to educate their family and friends on chiropractic! We don't miss a single week. Keep up the great work Dr Rob!" – Rob Garfinkel, DC
"Just wanted to thank you for creating these Weekly Sticky's – we print out three, put them each in a plastic cover and gave them to each patient to read as soon as they enter the office. This allows me to comment on the article with them, especially if the subject is pertinent to that patient. Now I need to get it out on Facebook, etc." – Dale Forsythe, DC
"I love the weekly sticky. They are the ultimate conversation piece everyday in my office. I put them on my hot seats, I take them to every screening that we do. They are an invaluable source of straight chiropractic education in my business. Thank you Dr. Rob for all that you do for the chiropractic profession!" – Dr. Dave J. Espinoza
"Hey Rob, You are really doing a service to the profession…..I use your Stickies every week and they are awesome….I am a very low-budget specific vitalistic principled old-timer who is building a none insurance-none employee practice and you are helping me greatly. God bless you for having a servants heart." – Dr. Richie Barone
"I just wanted to let you know how much I enjoy your weekly stickies! You do an amazing job finding the right picture to go with a perfect, clear, interesting message! Thank you for sharing this gift with all of us so we can pass it on and spread the word!" – Dr. Bryn Gillow
"I just wanted to thank you for putting this together. I know you spend a lot of time and effort to do this and I truly appreciate it." – Dr. Tom Popow
"Thank you for perpetuating both the principle and straight chiropractic as a whole. I love the weekly sticky, it is short and straight to the point. It reveals the magnitude of chiropractic, and thank you for guarding the sacred trust." – Jonathan Verderame, DC
"Hey Docs, are you sharing these with your patients? I put one in each adjusting room door and they get a new message every week. It stimulates conversation and it costs nothing. Thanks for your efforts, Rob!" – Rick Franks, DC
"Thanks Rob! Love your work on the Sticky notes, I use them regularly along with half a dozen other local Chiro's I know. " – Robbie Hunt, DC Australia
"Rob, just wanted to say thanks for the weekly sticky you make available… I really appreciate it, you make the points so well." - Marie Paas RN, D.C.
"I love and appreciate all you are doing for the profession with the creation of your Weekly Sticky's. You are elevating the profession and shifting the paradigm of of humanity to an ADIO way of life! Keep up the GREAT work my friend!" – Erick Swenson, DC
"I am a new chiropractor (less than a year). I simply want to say thank you for the "weekly sticky". Eventually, I plan to open my own office and will absolutely utilize this service for the office's Facebook page. It is refreshing to see a service that truly is patient-oriented and not necessarily looking to make a buck for doing what you do. I'm not sure if what I am saying is coming out as I intend, but really, understand that is only because I am excited to see another group so passionate about health and wellness for the community as I am. Thank you." – Timothy Murzycki, DC